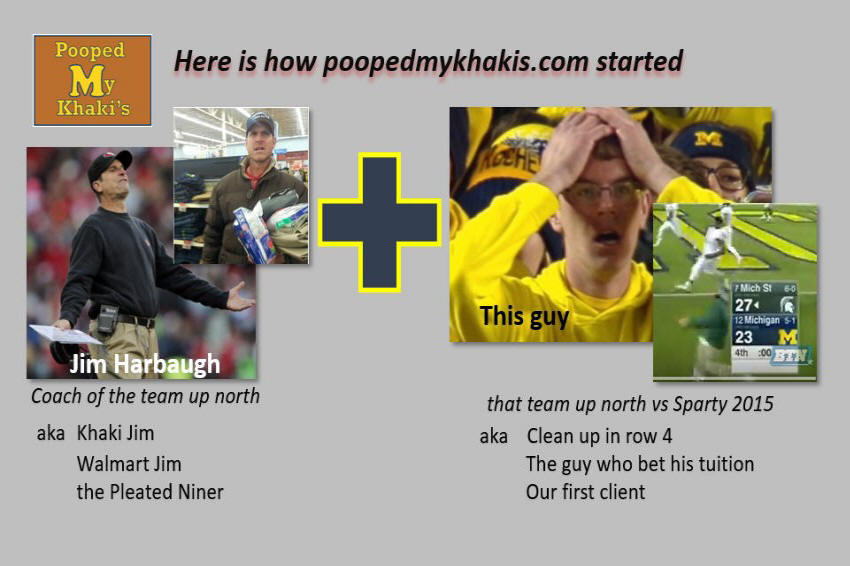 Do you have a friend afflicted by being a Michigan Fan?

Why not do something special and help protect their khakis from sudden losses,
order them some adult diapers from poopedmykhakis.com


Imagine how thrilled your favorite Michigan Fan will be when they open up a big box proudly displaying the pmk logo, filled with three adult diapers, and a custom message from you.
On October 17, 2015 we were inspired. It might have been the shrill sound of my good friend watching that fateful moment that ended the hope that the Wolverines were back. There was shock and disbelief as time stood still for him and the student featured above. The Wolverines had so much hope and promise, then suddenly that hope spilled out like the morning after a Mexican buffet and prune juice bender. It was over, the damage had been done. We thought "How could memorialize that moment for our good friend". The idea of starting a service to help protect against suddenly loosing your shit was born. It is a great way to let any khaki wearer know you care.
Since that October day, our mission has expanded to sharing the best moments in sports when the unexpected happens, promoting the boycott of khakis during the week of "the game", and helping provide any fan a fun and humorous way to embarrass a friend.
Our $25 dollar kit includes:
- Your custom note, handwritten
- Large conspicuous box
- Low quality XL adult diapers
- Delivered anywhere in the continental US